A NEW NOVEL FROM DOROTHY K. MORRIS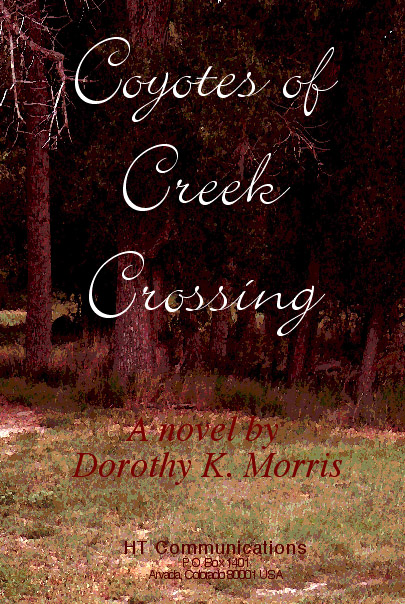 From Battlefields of the Civil War to Texas!
Adventure! Romance! Heroism! Cowardice!
In Coyotes of Creek Crossing, the second installment in The Mockingbird Hill series, we again meet Charlie O'Donnell and others whom we first met in Secret Sins of the Mothers. Charlie has fought the good fight for his beloved South in the Civil War. Now his path takes him on a journey to strange new lands.


Coyotes of Creek Crossing introduces us to a new cast of characters … men and women who help Charlie realize his dream of finding a new love and a purpose in life. We meet Sarah Truesdale, the lovely young wife of a brutal ex-Union Army officer, as she flees from her stylish, miserable life in Boston to seek anonymity in the wilds of Texas. We meet Adam Jones, our mystery man, who will figure strongly in Sarah's journey. We meet Henry Torbeaux, a lonely refugee from war-torn Georgia,who has found a place of peace at Creek Crossing. We meet a group of bandits and their leader, hell bent on savage revenge for personal affronts. In the background are the real coyotes of Creek Crossing, the lifelong canine residents who, from the vantage of the hilltops, watch and observe the happenings below.
"Ms Morris has done it again. As in
Secret sins of the Mothers
,
she has created another book that you cannot put away
until you finish the story. The story is intense and filled
with unforgettable characters. The book reminded me
of
Lonesome Dove
with its Texas born color."
- A fervent Dorothy Morris fan

SHIPS ON DEMAND WITHIN 24 HOURS

$15.50 + $4.00 shipping and handling in USA
Please allow a week for delivery with US Post Office Media Mail
add $4.00 for air shipment outside of USA and Canada

ALSO AVAILABLE AS AN INSTANTLY
DOWNLOADABLE E-BOOK FOR $5.95
Go to "Secret Sins of the Mothers" web page
HT Communications
Fine books by great new authors.
Return to Homepage
Payment information